Digital signage is not a new concept by any means, but as the innovative applications for its use continues to rise; the adoption of this more efficient medium is likely to increase as well. Seen in airports, on factory floors, in university dorm common areas and corporate lobbies -- whether consisting of text signs that can be changed on the fly, or sophisticated interactive kiosks that allow users to select informational video feeds, digital signage is finally coming into its own. Churches have begun using digital signage to communicate with their congregations and schools and transportation hubs are using digital signage to share messaging throughout their campuses and locations.
A hybrid of television, traditional out-of-home advertisements like billboards, and Web-based content - digital signage is a network of electronic displays that can be used to deliver information, entertainment or advertising across a wide variety of venues, including retail shops, manufacturing floors, transportation hubs and corporate offices. However, the use of this technology doesn't stop there. We've compiled a list of some innovative applications of digital signage in some rather unexpected places. Who would have guessed digital signage could serve a purpose in a restroom?! It's true… take a look below.
1. Public Venues
Through the use of Near Field Communication (NFC) Smart Posters technology, digital signage can be located anywhere and are frequently seen in city theaters, restaurants, and at bus or train stops. Through the use of this technology, users are called to more actively engage with the services that are offered through a digital exchange of content. Today digital signage no longer means just electronic screens, but print signage that has gone "digital."
Examples of print signage gone digital include:
A printed poster sending real-time local inventory and pricing information for the product or service being depicted directly to the viewer's smartphone.
A direct mail piece promoting only those items that are on sale and in stock at the closest store to the reader directly via their smartphone.

Photo Courtesy of: NEC Forum
The tourism industry has recently deployed NFC technology to offer a completely new experience to tourists. One of the first projects to utilize the technology is the 'NFC Parcours Princesse Grace Monaco,' which enables NFC device users to touch NFC Smart Posters to instantly download information and directions at the memorial sites during each stage of the itinerary for the Parcours in Monaco. This project demonstrates how NFC technology can reduce the number of printed brochures used in the tourist industry, while providing users with interactive and real-time information through the simplicity of touch.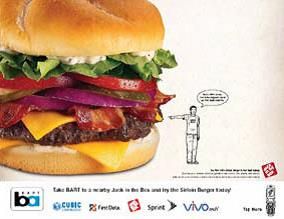 Photo Courtesy of: NEC Forum
NFC Smart Posters have also been successful at driving traffic to merchant locations. In multiple train stations across the San Francisco Bay area, posters for 'Jack in the Box' were deployed. Participants were able to tap their phones in order to receive promotional information and directions to the nearest 'Jack in the Box' location. Once there, they could simply tap their phones at a contactless payment reader to pay for their meals.
2. Vending Machines
Even old-school technologies like vending machines are getting a new-school technology upgrade. Interactive touchscreen technology has helped create a new wave of intelligent vending kiosks, producing a more immersive and personalized experience for the customer that supports a growing trend toward automated retail processes. Along with digital signage displays of the machine's product offerings and caloric information, many touchscreens are compatible with cashless payment options like NFC via Google Wallet and Isis and can connect wirelessly to provide real-time sales data, machine alerts and inventory tracking to operators.

Photo Courtesy of: Digital Signage Today
3. Interactive Window Displays
This use of digital signage technology allows for full interaction with a touch screen's capabilities and can operate through a traditional store-front window. By using popular back office computer systems or digital signage controllers, customers can browse a product catalog at the storefront window at any time of the day or night by simply touching the interactive smart glass window. Another innovative application suggests the use of this technology in the home by using a bathroom mirror to display an interactive daily schedule, to-do list and organizer.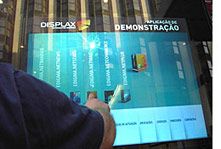 Photo Courtesy of: Screen Media Daily
4. Outdoor Memorials & Parks

Photo Courtesy of: Digital Signage Today
No longer must outdoor memorials, park dedications or sponsorships be "set in stone," but rather the use of digital signage allows for interactive and dynamic content that truly represents the project.
The Historic Prospect Hill Cemetery Heritage Foundation was a project that results from a promise made to local families in 2010 when the cemetery retired a temporary memorial of over 4,400 flags representing the soldiers lost in Iraq. Encased in black granite, the interactive digital sign honors more than 6,600 soldiers killed in the Iraq and Afghanistan wars by rotating through an album of pictures submitted by families of the deceased.
These creative applications are driven by the many advantages digital signage has over the traditional, static ways of displaying information. While digital signage can allow for a faster roll out of content, it can also display content in high-definition (HD), making the overall aesthetics of the material richer and cleaner. Many businesses adopt digital signage because of its low maintenance demands. Content can be updated instantaneously, via remote control, and can be tailored to particular audiences, locations or even times of the day.
Organizations within both the healthcare and hospitality fields are looking to expand their use of digital signage in 2013 as industry experts point to its growth and technology integration on various levels with interactive kiosks, educational white boards, and smart vending machines. Many businesses are realizing that in today's technological world people are distracted by other sources of electronic media, making it harder to reach their targeted audience. Digital signage has a "wow" factor that makes it more effective for garnering attention than traditional signage and its use can be innovatively applied to various mediums.